2023-01-04 13:34:14
Step 1: Applying
Candidates can apply to positions at Hoa Sen Group by following:
Send your CV directly to: 183 Nguyen Van Troi Street, 10 Ward, Phu Nhuan District, Ho Chi Minh City, Vietnam.
Executive Office of Hoa Sen Group:South Area Office: 183 Nguyen Van Troi Street, 10 Ward, Phu Nhuan District, Ho Chi Minh City, Vietnam.
North Area Office: Apartment 05, N06, Sai Dong Urban, Phuc Dong Ward, Long Bien District, Hanoi, Vietnam.
Middle Area Office: Lot A1.1 and TT 6.2&7, Nhon Hoa Industrial Park, Nhon Hoa Ward, An Nhon Town, Binh Dinh, Vietnam.
Application documents includes:
Application form (announced by HSG)
Notarized copy of diplomas and certificates related
Curriculum vitae (notarized within 06 months)
Health certifications (less than 06 months)
Notarized copy of household registration book and personal ID
Copies of the decision of appointment/ recruitment/ resignation of former company (if available)
4 hard copy of 3x4cm photos
2. Apply directly to Hoa Sen Talent Network (http://hoasenjobs.com)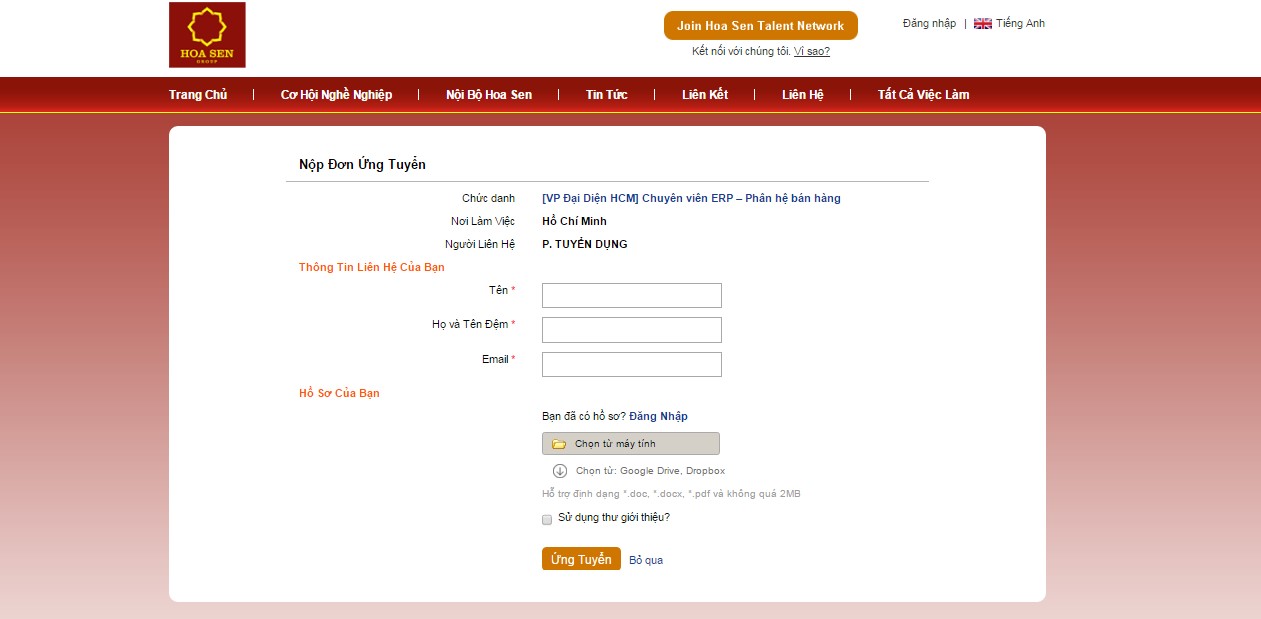 3. Apply online at websites which HSG publishes recruitment positions (vietnamwork.com, careerbuilder.vn, jobstreet.vn...)
4. Email your CV to Recruitment Department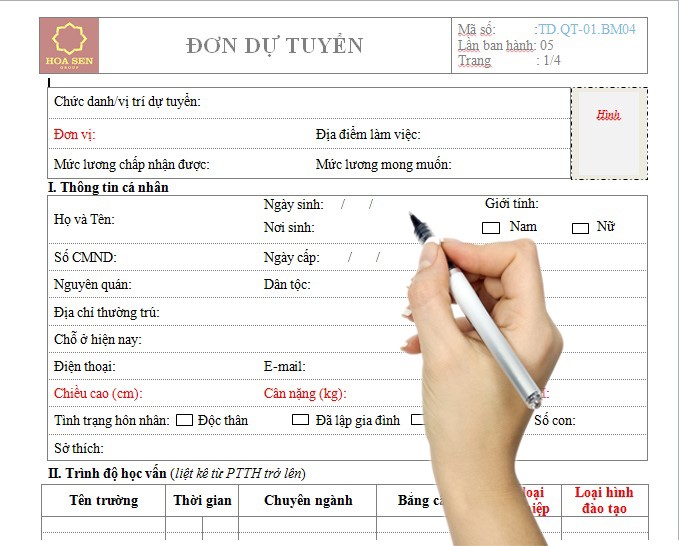 Step 2: Collecting and Screening
After collecting application forms, Recruitment Department will select suitable candidates who adapt the recruitment criteria. With unappropriate application forms, we will save your information and use for future appropriate positions.
Step 3: Aptitude test
Recruitment Department contacts to appropriate candidates (by email or mobile) in step 2 for the aptitude test.
Based on each position, aptitude test will be applied.
Step 4: Interviewing
Depending on vacancies which may have more than one interview. During the interview, the company will check some information in the dossier and evaluate the suitability of candidates for the vacancy. The company will answer questions of the candidates on issues related to recruitment process.
Round 1: Exposure Recruiting representatives of Hoa Sen Group to take the basic assessment of the capacity, experience and cultural fit with the company.
Round 2: Head of Department / Board will interview to test the professional capability and experience of the candidate, thereby determining pass or fail for the vacancy.
Round 3: (For management level positions) candidates will be interviewed by the Board of Directors/ Chairman of the Company.
Step 5: Additional documents
Candidates who passed the interview will be required to complete your documents for Recruitment Department (in case of needed) to submit to Head of Recruitment Department for approving.
Step 6: Offer Letter
After consideration, approval, Recruitment Department will annouce the results to candidates via email or personal phone number, discuss an agreement with the candidate about time, wage, regulation,... (in case of candidates recruited).
Recruitment Department sends thank-you letter to the candidates who did not reached the criteria within 7 working days.